Independent Reviews
The following reviews come from independent media sources. Most of them are about TurboMeeting, the underlying technology for GoMeetNow.
1. Microsoft looses ground while GoMeetNow leaps into our top 5 by webconferencing-test.com
The review is by "www.webconferencing-test.com", the best independent web conferencing reviewer. They have reviewed nearly 40 web conferencing vendors worldwide diligently since 2006. They have provided the most objective and comprehensive recommendations to its readers. They have been ranked as the #1 for the Google keyword "web conferencing review". We are honored to be named as one of the top 5 in their list and we strive our best efforts to keep raising our position there.
2. RHUB TM-200 Web Conferencing Appliance: Almost As Good As Being There by Brian Sheinberg at ChannelWeb.
"The extremely easy installation and almost flawless operation make it a no-brainer for any company needing the services it provides."
3. Break the WebEx Habit with RHUB's TurboMeeting Conference Appliance by Frank Ohlhorst at Channelinsider
"Setting up and controlling web conferences has never been easier thanks to the TurboMeeting appliance from RHUB, a device that will give any SaaS conferencing solution a run for its money, while adding remote control, remote access and remote support to the mix."
4. RHUB in CRN TV
,

by CRN Test Center
"Solution providers who depend on web conferencing should consider the TurboMeeting 200"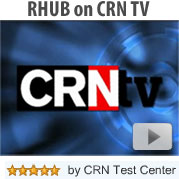 For comprehensive media coverage of the RHUB products, please go to "RHUB in the Press".